Compact & connected motion analysis sensor
Data fusion from multiple sensors facilitates analysis with high precision for motion, vibration, and environmental measurement.
Small and wireless, nanoSense can easily be integrated into any equipment, vehicle, robot, etc…
Different sensors can communicate data between each other

Comes in various enclosures to suit all types of environments

Programmable intelligence
Our application will allow each component to be configured as needed

Accelerometers, gyroscopes, compass and 3D magnetic field
Pressure, Humidity, Temperature, and Light measurements
Bluetooth BLE, ISM, CAN and QI charging
Rechargeable batteries and energy redistribution feature
The main features of the device include , but are not limited to the following
· MEMS: 3-AXES, ± 245°/S, 16-BIT, 840 HZ
· ACCELEROMETER: 3-AXES; ± 16G; ± 0.2% ERR; 1600 HZ
· MAGNETOMETER: 3-AXES; ± 16-BIT; ±50 GAUSS
· HALL SENSOR: 3-AXES, ± 160MT; 65UT; ANGULAR MEAS.
· DISTANCE MEASUREMENT BY LASER TOF, ≤ 400 CM, 20MM-ERR, 50HZ.
· PRESSURE / HUMIDITY / TEMPERATURE SENSOR PHT: 50 – 115 KPA; ±1KPA.
· LIGHT SENSOR: ≤ 60.000 LUX; 8M:1
· TEMPERATURE SENSOR DIGITAL, HIGH ACCURACY: ±0.1 °C
· INTERNAL STORAGE MEMORY: 1 GBYTE
· STANDALONE MODE
· REAL TIME CLOCK
· ANDROID / IOS COMPATIBLE VIA BLUETOOTH
· PYTHON SCRIPTING BY INTEGRATED MICROPHYTON
· BLUETOOTH LOW ENERGY (BLE) 5.0
· UART 1-WIRE BUS
· NFC FOR DEVICE DETECTION AND AUTOMATIC PAIRING
· POWER SUPPLY: 150 MA MAX
· MAIN INPUT PORT: 3.3 – 6.2 V
· LI-PO BATTERY: 90 OR 120 MAH
· QI CHARGER
· LOW POWER MODE
· VOLTAGE MEASUREMENT FOR ALL INPUTS
· COMPACT SIZE: 43 X 16 X 10 MM
· ENCLOSURE: OPEN (IP41), SEALED (IP65)
· DOCKING CONNECTOR
· TEMPERATURE RANGE: –40 TO +85°C
nanoSense

Programmable intelligence in one compact enclosure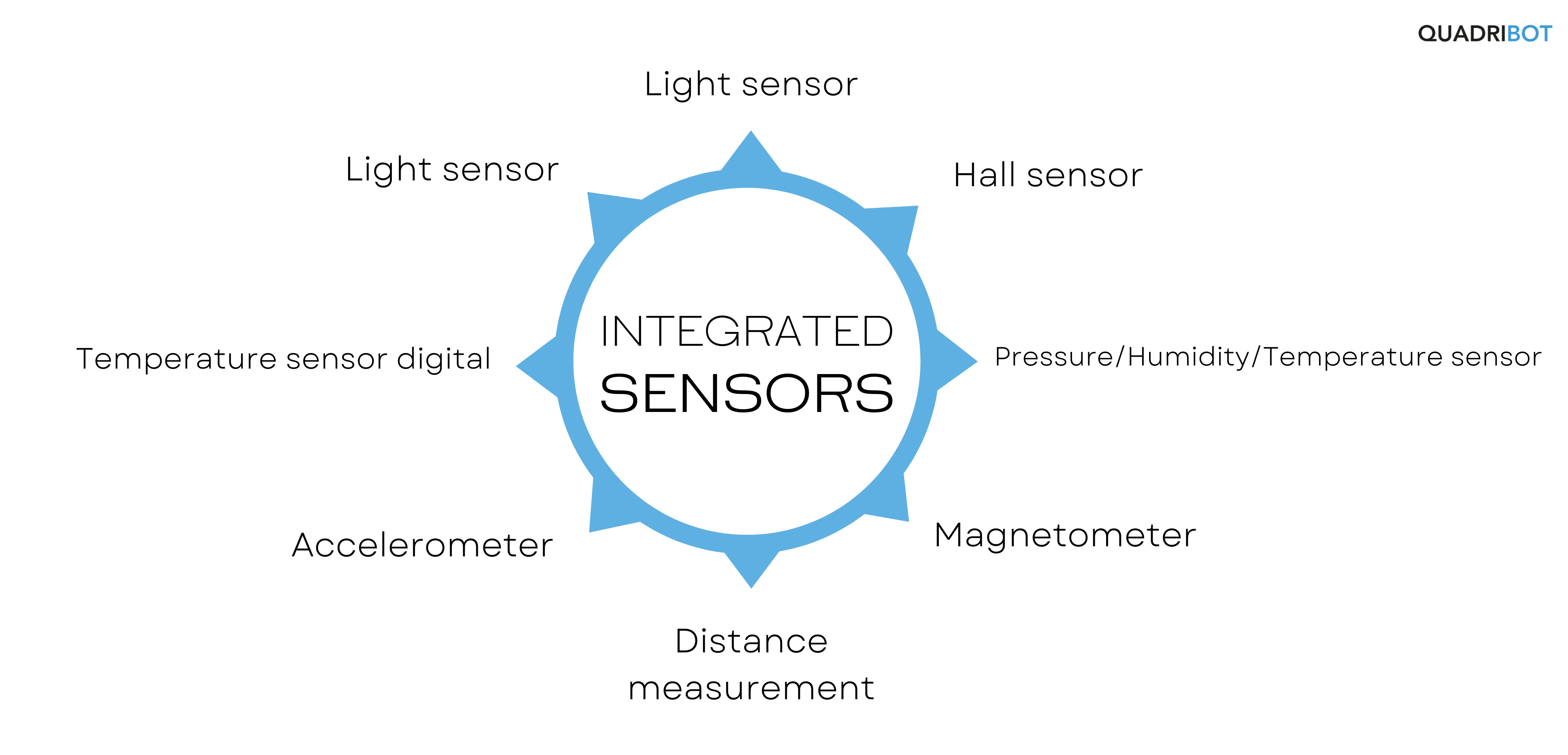 nanoSense is dedicated for application where measuring requires performance in terms of accuracy, response time and sampling frequencies while maintaining a wireless connection with the acquisition system
Our multi-sensor is small and has a resilient structure making it perfect for measuring movement in sport activities
Our solution is based on MEMS inertial sensors, facilitating precise kinematic measurements in any environment
We offer a durable solution that provides continuous suspension monitoring for vehicle components
Our solution provides precise measurements for a fluid piloting experience and unreproachable obstacle detection